Economic Gangsters
Meet the economic gangster. He's the United Nations diplomat who double-parks his Mercedes on New York City streets at rush hour because the cops can't touch him--he has diplomatic immunity. He's the Chinese smuggler who dodges tariffs by magically transforming frozen chickens into frozen turkeys. The dictator, the warlord, the unscrupulous bureaucrat who bilks the developing world of billions in aid. The calculating crook who views stealing and murder as just another part of his business strategy. And, in the wrong set of circumstances, he might just be you. In Economic Gangsters, Raymond Fisman and Edward Miguel take readers into the secretive, chaotic, and brutal worlds inhabited by these lawless and violent thugs. Join these two sleuthing economists as they follow the foreign aid money trail into the grasping hands of corrupt governments and shady underworld characters.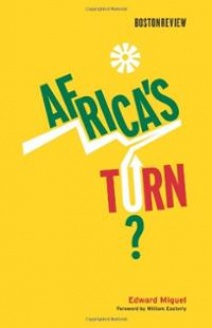 Africa's Turn?
By the end of the twentieth century, sub-Saharan Africa had experienced twenty-five years of economic and political disaster. While "economic miracles" in China and India raised hundreds of millions from extreme poverty, Africa seemed to have been overtaken by violent conflict and mass destitution, and ranked lowest in the world in just about every economic and social indicator.
Working in Busia, a small Kenyan border town, economist Edward Miguel began to notice something different starting in 1997: modest but steady economic progress, with new construction projects, flower markets, shops, and ubiquitous cell phones. In Africa's Turn? Miguel tracks a decade of comparably hopeful economic trends throughout sub-Saharan Africa and suggests that we may be seeing a turnaround. He bases his hopes on a range of recent changes: democracy is finally taking root in many countries; China's successes have fueled large-scale investment in Africa; and rising commodity prices have helped as well. Miguel warns, though, that the growth is fragile. Violence and climate change could derail it quickly, and he argues for specific international assistance when drought and civil strife loom.
Responding to Miguel, nine experts gauge his optimism. Some question the progress of democracy in Africa or are more skeptical about China's constructive impact, while others think that Miguel has underestimated the threats represented by climate change and population growth. But most agree that something new is happening, and that policy innovations in health, education, agriculture, and government accountability are the key to Africa's future.
Contributors: Olu Ajakaiye, Ken Banks, Robert Bates, Paul Collier, Rachel Glennerster, Rosamond Naylor, Smita Singh, David N. Weil, and Jeremy M. Weinstein
Transparent and Reproducible Social Science Research
Social science fields have each taken their turn in the spotlight with instances of influential research that fell apart when scrutinized. Beyond deliberate fraud, there is growing evidence that much social science research features sloppy yet inadvertent errors, and a sense that many analyses produce statistically "significant" results only by chance. Due in part to a rising number of highly publicized cases, there is growing demand for solutions. A movement is emerging across disciplines towards greater research transparency, open science, and reproducibility. Researchers have developed new tools for combatting false positives and non-reproducible findings, as well as adapting approaches from medicine and other fields. For instance, more researchers are conducting meta-analyses, pushing to reform the journal peer review process to focus on good research design rather than on "sexy" results, and posting pre-specified hypothesis documents in public registries, all to curb rampant publication bias. New software tools make it easier to implement version control with dynamic documents that can reproduce an entire research workflow with a single mouse click, and data repositories are making it simple to download others' data, encouraging the replication and extension of previous work. Our textbook is the first to fully synthesize these new methods. (The book is forthcoming with University of California Press, expected publication date: July 2019).